Compact Automatic Spray Gun
SA-1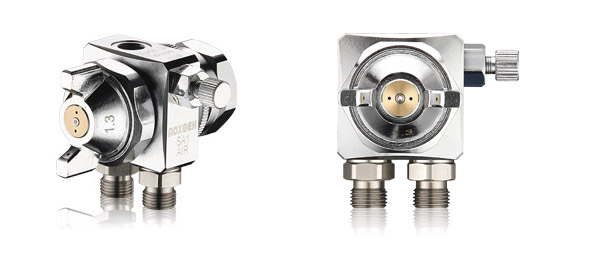 Compact Automatic Spray Gun
SA-1
- Compact Automatic spray gun
- Wide scope of purpose, and ideal for various industries.
- Nozzle and needle are made of stainless steel for anti-wear and lengthen the life of gun. - Applications: release agent, cooling, surface treatment, press molding, odor removal, Plant humidification, and so on.
- Specification: Molding, cooling, release molds, surface treatment, spraying lubricants or water.
specification
ProductsModel
Type of Feed
Nozzle orifice Ø mm (in)
Air cap
Atomizing Air pressure Mpa (bar/psi)
Fluid
Output
ml/min
Air
consumption
l/min(cfm)
Pattern
Width
mm (in)
Weight
g(lbs)
SA1-05P
Pressure
0.5 (0.020)
05
0.29 (3.0/43)
60
60 (2.1)
200 (7.9)
280(0.62)
SA1-10P
Pressure
1.0 (0.039)
10
0.29 (3.0/43)
250
80 (2.8)
250 (9.8)
280(0.62)
SA1-13P
Pressure
1.3 (0.051)
13
0.29 (3.0/43)
360
100 (3.5)
350 (13.8)
280(0.62)
SA1-20P
Pressure
2.0 (0.079)
20
0.29 (3.0/43)
600
140 (4.9)
400 (15.7)
280(0.62)