High Performance Automatic Spray Gun
XAR-22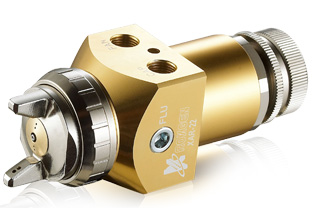 High Performance Automatic Spray Gun
XAR-22
-Easy operation. Air intake and spray pattern width could be adjusted. When adjust air, it is unnecessary to stop operation.
-XAR-22 High performance automatic spray gun is ideal for robotic arm and applications requiring precise spray pattern control.
Application: Computer case, Mobile phone shell, Cosmetic shell, Furniture, Hand tools, Textile, Glass, Die-casting, Ironmongery industry.

specification
ProductsModel
Type of Feed
Nozzle Size Ø mm (in)
Air cap
Air pressure
Mpa(bar/psi)CAP
Air pressure
Mpa(bar/psi)FAN
XAR-22-12P
Pressure
1.2(0.047)
G2P
0.24(2.4/34)
0.27(2.7/38)
| | | | | |
| --- | --- | --- | --- | --- |
| ProductsModel | Fluid output ml/min | Air Consumpation l/min(cfm) | Pattern Width mm(in) | Wieght g(lbs) |
| XAR-22-12P | 300 | 530(18.7) | 400(15.7) | 380(0.84) |